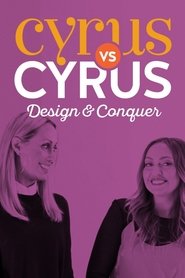 Cyrus vs. Cyrus: Design and Conquer
After years of perfecting their passion for interior design in their own homes, Tish and Brandi Cyrus take their talents to the streets of their hometown, Nashville, to share their skills with friends and word-of-mouth clients.
Episodes: 4
Status: Returning Series
Seasons: 1
All Episodes
You may also like
Fast N' Loud
Motor mastermind Richard Rawlings and mechanical prodigy Aaron Kaufman search for forgotten and neglected vintage cars. They need big projects and big profits to keep the doors open at Gas Monkey Garage in Dallas, TX.

Country:
Genre:
Truth & Iliza
Comic Iliza Shlesinger hosts this late-night talk show that features episodes that revolve around particular themes, in the form of a question that Iliza tries to answer. She uses audience interaction, field pieces, commentary and — what she's best known for — jokes to help her find the answers she seeks. The weekly series focuses on discussing the sociopolitical issues of the day, whether they involve necessary discussions or more inane topics.

Country:
Genre:
Jep & Jessica: Growing the Dynasty
The continuing chronicles of the lives of Jep and Jessica Robertson and their five children.

Country:
Genre:
Ghost Hunters
Ghost Hunters is an American paranormal reality television series that premiered on October 6, 2004, on Syfy. The program features paranormal investigators Jason Hawes and Grant Wilson who investigate places that are reported to be haunted. The two originally worked as plumbers for Roto-Rooter as a day job while investigating locations at night. Since the show's success, the series now takes precedence in their lives, but they are still honorary employees with the company and continue to do jobs for them if time permits.
The show is unrelated to the original 1996 Inca Productions show Ghosthunters produced for the Discovery Channel. The format was sold to Pilgrim Films & Television in the United States to become Ghost Hunters. The only link between the two shows is presenter Ian Cashmore who anchored the UK/Europe show. Cashmore piloted the U.S. show, but chose not to remain part of the U.S. venture after he filmed the promos.

Country:
Genre:
Running Wild with Bear Grylls
Running Wild with Bear Grylls, the survivalist takes one celebrity into the most remote locations in the U.S. and around the world for a 48-hour journey of a lifetime. From skydiving into the Catskill Mountains, to rappelling down the cliffs of Utah and battling torrential wind and rain in Scotland, Grylls and each celebrity will have to push both their minds and bodies to the limit to successfully complete their journey.

Country:
Genre:
OutDaughtered
40 bottles a day, 420 diapers a week and feedings every three hours became the new normal for Danielle and Adam Busby when they welcomed home the only all-female set of quintuplets in the country. The family of three became a family of eight overnight, and TLC follows that incredible journey in the new series "OUTDAUGHTERED". The series captures Danielle, Adam and their adorable 4-year-old daughter Blayke as they adjust to their new life, while trying to hold on to the identities and lives they had cultivated before the five new additions arrived. Following the hilarious and heartwarming antics of the entire family including Danielle's zany mother, Michelle, and her older twin sisters and their families, it's all hands on deck as the family relies on their tight-knit circle to make the most out of this incredible lifetime adventure.

Country:
Genre:
Married at First Sight
Based on the hit Danish format, "Married at First Sight" is an extreme social experiment following six brave souls who are yearning for a life-long partnership as they agree to a provocative proposal: getting legally married the moment they first meet. Four specialists – sexologist, Dr. Logan Levkoff; spiritualist, Greg Epstein; psychologist, Dr. Joseph Cilona; and sociologist, Dr. Pepper Schwartz – will create what they believe are three perfect couples, based on scientific matchmaking. The couples will never meet or know each other until they walk down the aisle and see each other face to face, for the first time, when they get married. Each episode of "Married at First Sight" will follow the classic lifestyle stories of newlyweds – from the honeymoon to early nesting to other relatable events of married life. After several weeks together, each couple must make a decision: do they remain together or decide to separate?

Country:
Genre:
Naked and Afraid XL
A group of the best survival experts in the world are taking on an un-survivable situation that has never been attempted before: 12 people. 40 days. 40 nights. No food. No water. No clothes. The ultimate trial of human endurance and will to survive. NAKED AND AFRAID XL is a 40 day challenge, making it exponentially more difficult than anything that's ever been tried in the past. Six women and six men, all extreme survivalists with their own expertise, find themselves stranded in a remote equatorial jungle of Colombia and this time, they will all be fighting for the same limited resources. All being inserted separately, how will these survivalists encounter and respond to each other? Will they band together as one large group or break apart into smaller groups to survive? These 12 survivalists have proven that they have physical and mental strength, endurance, intelligence, a fan

Country:
Genre:
Love Island
Love Island will see a stunning cast engage in the ultimate game of love, as they land in a sunshine paradise in search of passion and romance. Each of the glamorous members of the public will live like celebrities in a luxury villa, but in order to stay there, they will not only have to win over the hearts of each other, but also the hearts of the public. Can true love win out on Love Island or is it all a game? Caroline Flack, introduces us to the cast of hot, young singles who have come looking for a summer of love and romance. The winners will leave the island with £50,000 in six weeks' time but to get their hands on it the singles will need to go the distance.

Country:
Genre:
Ghost Adventures
Paranormal investigator Zak Bagans and his crew, Nick Groff and Aaron Goodwin, search for haunted locations both domestically and internationally. During their investigations, Zak and crew acquaint themselves with the general area; interview locals about the hauntings; and go face-to-face with the evil spirits who reportedly haunt these locations.

Country:
Genre:
The Pop Game
Young aspiring vocalists are mentored by famous musicians in hopes of scoring a record contract with a major label in this reality competition.

Country:
Genre:
Homicide Hunter: Lt Joe Kenda
A non-fiction investigative series of murder cases told through the personal experience of retired detective, Lieutenant Joe Kenda. Through re-enactments, discussions with investigation teams, and interviews with victims' families and other involved persons, the show highlights Kenda's successes with his 400 homicide case history and 92 percent solution rate.

Country:
Genre: