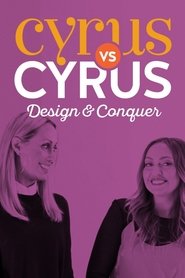 Cyrus vs. Cyrus: Design and Conquer
After years of perfecting their passion for interior design in their own homes, Tish and Brandi Cyrus take their talents to the streets of their hometown, Nashville, to share their skills with friends and word-of-mouth clients.
Episodes: 4
Status: Returning Series
Seasons: 1
All Episodes
You may also like
Stranded with a Million Dollars
The series drops 10 adventurers on an island with nothing but the clothes on their backs and a million dollars in cash. Those who survive for 40 days filled with gut-wrenching journeys and demanding physical challenges will split the money as their prize. The catch? They can buy all of the survival supplies and creature comforts they desire, but everything is crazy expensive (think $30K for a tent), all decisions to make a purchase require a group majority and the cost comes out of their shared prize money.

Country:
Genre:
Love & Hip Hop: Atlanta
Love & Hip Hop: Atlanta is the Atlanta based spin-off of Love & Hip Hop. It premiered on June 18, 2012, on VH1 and chronicles the lives of several women who are involved with hip hop. The second season premiered on April 22, 2013, with new cast members: Atlanta DJ and radio personality Traci Steele plus DJ Babey Drew, Traci's ex and father of their son Little Drew.

Country:
Genre:
What Happens at The Abbey
Cameras follow the lives of the employees at the famous L.A. hotspot The Abbey in the heart of West Hollywood, and you can bet there's major drama.

Country:
Genre:
Hack My Life
Taking everyday items and using them to make your life easier.

Country:
Genre:
The Pop Game
Young aspiring vocalists are mentored by famous musicians in hopes of scoring a record contract with a major label in this reality competition.

Country:
Genre:
OutDaughtered
40 bottles a day, 420 diapers a week and feedings every three hours became the new normal for Danielle and Adam Busby when they welcomed home the only all-female set of quintuplets in the country. The family of three became a family of eight overnight, and TLC follows that incredible journey in the new series "OUTDAUGHTERED". The series captures Danielle, Adam and their adorable 4-year-old daughter Blayke as they adjust to their new life, while trying to hold on to the identities and lives they had cultivated before the five new additions arrived. Following the hilarious and heartwarming antics of the entire family including Danielle's zany mother, Michelle, and her older twin sisters and their families, it's all hands on deck as the family relies on their tight-knit circle to make the most out of this incredible lifetime adventure.

Country:
Genre:
Shaunie's Home Court
A half hour comedy following the life of Basketball Wives star Shaunie O'Neal along with her family. It's not all glitz and glamour for Shaunie, who behind the scenes spend her days wrangling five children ranging from the ages of 19 to 10 years old. Needless to say, Shaunie has her hands full trying to keep everyone on her court in line.

Country:
Genre:
The Celebrity Apprentice
The ultimate sixteen-week job interview where eighteen Americans compete in a series of rigorous business tasks, many of which include prominent Fortune 500 companies and require street smarts and intelligence to conquer, in order to show the boss that they are the best candidate for his companies. In each episode, the losing team is sent to the boardroom where they are judged on their performance in the task. One person is fired and sent home.

Country:
Genre:
Bad Girls Club
A cast of young women, who recognize that their outrageous behavior has hindered their relationships, careers and lives, are brought together in a beautiful mansion. They claim they want to change, but will living together help them move forward and turn their lives around – or will chaos rule?

Country:
Genre:
Edge of Alaska
Hidden deep in the wilderness of Alaska is the toughest town in America: McCarthy. Only 42 residents brave the extreme conditions. They are mavericks, trailblazers, risk takers and rabble rousers, all trying to escape their past by surviving at the end of America.

Country:
Genre:
Real World
The Real World is a reality television program on MTV originally produced by Mary-Ellis Bunim and Jonathan Murray. First broadcast in 1992, the show, which was inspired by the 1973 PBS documentary series An American Family, is the longest-running program in MTV history and one of the longest-running reality series in history, credited with launching the modern reality TV genre.
The series was hailed in its early years for depicting issues of contemporary young-adulthood relevant to its core audience, such as sex, prejudice, religion, abortion, illness, sexuality, AIDS, death, politics and substance abuse, but later garnered a reputation as a showcase for immature and irresponsible behavior.
Following Bunim's death from breast cancer in 2004, Bunim/Murray Productions continues to produce the program. The 28th and most recent season, set in Portland, Oregon, premiered on March 27, 2013, and ended its first run on June 12, 2013. An upcoming 29th season, set in San Francisco, California, is currently in production, and is expected to air in 2014.
The series has generated two notable spin-offs, both broadcast by MTV: Road Rules, which lasted for 14 seasons, and the reality game show The Challenge, which has run for over 20 seasons since 1998. The Challenge is mostly cast-contestant dependent on both The Real World and Road Rules, as it combines contestants from various seasons of both shows. Coordinating the series with its spin-off, MTV alternates between airing seasons of The Real World and The Challenge and ends out seasons of both shows by showing previews for the upcoming season of the other.

Country:
Genre:
The Real Housewives of Potomac
Just up the river from our nation's capital lies a hidden gem—Potomac, Maryland. Its rolling hills, gated mansions, sophisticated prep schools, and exclusive country clubs all serve to keep the area invitation-only. Sprinkled throughout this community are a handful of old-line, wealthy African-American families who have historically broken racial barriers to provide a life of privilege for their children. In a town where entry is granted only through class, pedigree, and lineage, how far will the ladies go to secure their spot at the top of this prestigious circle?

Country:
Genre: