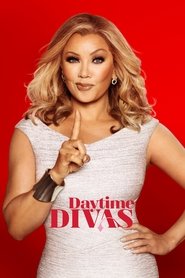 Daytime Divas
Every weekday at noon, Maxine, Mo, Heather, Kibby, and Nina—hosts of The Lunch Hour, the long-running women's talk show—gather around the table to discuss life, love, politics, and juicy gossip. But behind the scenes, it's even juicier — a backstage world filled with power struggles, diva fits, and steamy affairs. Inspired by the book "Satan's Sisters" by Star Jones, television personality, lawyer and journalist.
All Episodes
You may also like
Marvel's Iron Fist
Danny Rand resurfaces 15 years after being presumed dead. Now, with the power of the Iron Fist, he seeks to reclaim his past and fulfill his destiny.

Country:
Genre:
Devious Maids
The series centers on four Latina maids working in the homes of Beverly Hills' wealthiest and most powerful families, and a newcomer who made it personal after a maid was murdered and determined to uncover the truth behind her demise, and in the process become an ally in their lives.

Country:
Genre:
Two Doors Down
Comedy centred around a couple and their insufferable neighbours.

Country:
Genre:
Plebs
Plebs follows three desperate young men from the suburbs as they try to get laid, hold down jobs and climb the social ladder in the big city – a city that happens to be Ancient Rome.

Country:
Genre:
Black Box
Catherine Black is a world-famous neurologist at the state-of-the-art medical institution known as "The Cube". Catherine is brilliant, beautiful, and at the top of her game, though she's hiding a secret of her own: she's bipolar. Each week, the doctors on staff attempt to unravel the mysteries of the brain and are constantly challenged by cases never-before-seen on television. The medical stories are moving, bizarre and a visual feast. The personal stories are riveting. The patients have rare, highly visual, often hallucinogenic and startling conditions, which we'll see through their eyes as Catherine diagnoses and treats them.

Country:
Genre:
Show Me a Hero
Mayor Nick Wasicsko took office in 1987 during Yonkers' worst crisis when federal courts ordered public housing to be built in the white, middle class side of town, dividing the city in a bitter battle fueled by fear, racism, murder and politics.

Country:
Genre:
Thicker Than Water
The beautiful island of Sunnanö in the Swedish archipelago is home to a popular B&B run by Anna-Lisa and her son Oskar. Anna-Lisa has summoned her daughter Jonna, an actress, and son Lasse, an opportunist, to the island. It is the first time in years that they are together again. When Anna-Lisa is found dead one morning, the siblings learn that she had terminal cancer: Her will stipulates that all three siblings must run the family B&B together for a year, or they won't inherit it at all. It is a mother's last effort to reunite her children. But it will also confront them with the family's unsolved past, present forces of attraction, and a very dark secret buried in a most unfortunate place…

Country:
Genre:
Phineas and Ferb
Each day, two kindhearted suburban stepbrothers on summer vacation embark on some grand new project, which annoys their controlling sister, Candace, who tries to bust them. Meanwhile, their pet platypus plots against evil Dr. Doofenshmirtz.

Country:
Genre:
The Secret Life of the American Teenager
The Secret Life of the American Teenager is an American teen drama television series created by Brenda Hampton. It first aired on ABC Family on July 1, 2008 and ran until June 3, 2013. The show was renewed for a second season consisting of 24 episodes on February 9, 2009, which began airing on June 22, 2009. On January 12, 2010, ABC Family announced that Secret Life would return for its third season, which premiered on June 7, 2010. On January 9, 2011, ABC Family announced the show would return for its fourth season on March 26, 2011. On February 2, 2012, ABC Family renewed the series for a fifth and final season. On October 9, 2012, it was announced that the fifth season of The Secret Life of the American Teenager would be the final season. The series finale aired on June 3, 2013.
The series received generally negative reviews from mainstream critics when it began broadcasting, but was well received among female and teenage viewers. The pilot episode broke the record for the highest rated debut on ABC Family, which has been broken by the second season premiere, beating Kyle XY, with 2.82 million viewers. The season one finale brought in 4.50 million viewers, beating that night's episode of Gossip Girl, which had less than half its usual number of viewers. Premiering to mostly positive reviews from critics and being well received among viewers, the second season of Secret Life opened with the largest audience the series has seen so far, posting a series high in total viewers with 4.68 million viewers; in adults 18–34 it is the number one scripted original premiere of Summer 2009. Furthermore, the mid-season premiere became ABC Family's most watched telecast of all time with viewers ages 12–34 with more than three million viewers watching.

Country:
Genre:
The Fosters
The Fosters is a compelling, one-hour drama about a multi-ethnic family mix of foster and biological kids being raised by two moms. Stef Foster, a dedicated police officer, and her partner Lena Adams, a school vice principal, have built a close-knit, loving family with Stef's biological son from a previous marriage, Brandon, and their adopted twins, Mariana and Jesus. Their lives are disrupted in unexpected ways when Lena meets Callie, a hardened teen with an abusive past who has spent her life in and out of foster homes. Lena and Stef welcome Callie and her brother, Jude, into their home thinking it's just for a few weeks, until a more permanent placement can be found. But life has something else in store for the Fosters.

Country:
Genre:
Babylon 5
Babylon 5 is a five-mile long space station located in neutral space. Built by the Earth Alliance in the 2250s, it's goal is to maintain peace among the various alien races by providing a sanctuary where grievances and negotiations can be worked out among duly appointed ambassadors. A council made up of representatives from the five major space-faring civilizations – the Earth Alliance, Minbari Federation, Centauri Republic, Narn Regime, and Vorlon Empire – work with the League of Non-Aligned Worlds to keep interstellar relations under control. Aside from its diplomatic function, Babylon 5 also serves as a military post for Earth and a port of call for travelers, traders, businessmen, criminals, and Rangers.

Country:
Genre:
Walk the Prank
A team of practical jokesters creates hilarious over-the-top pranks for an online hidden camera show.

Country:
Genre: