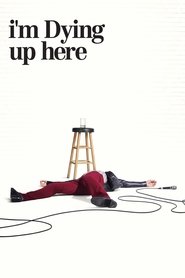 I'm Dying Up Here
Set in LA's celebrated, infamous stand-up comedy scene of the 1970s, this series delves into the inspired and damaged psyches that inhabit the hilarious, but complex business of making an audience laugh.
Genre: Comedy
Actors: Melissa Leo, Ari Graynor, Clark Duke, Michael Angarano, RJ Cyler, Erik Griffin, Andrew Santino, Al Madrigal, Stephen Guarino, Sebastian Stan,
Directors: Jim Carrey
Episodes: 10
Status: Returning Series
Seasons: 1
All Episodes
You may also like
Animals.
An animated comedy focusing on the downtrodden creatures native to Earth's least-habitable environment: New York City. Whether it's lovelorn rats, gender-questioning pigeons or aging bedbugs in the midst of a midlife crisis, the awkward small talk, moral ambiguity and existential woes of non-human urbanites prove startlingly similar to our own.

Country:
Genre:
Psych
Thanks to his police officer father's efforts, Shawn Spencer spent his childhood developing a keen eye for detail (and a lasting dislike of his dad). Years later, Shawn's frequent tips to the police lead to him being falsely accused of a crime he solved. Now, Shawn has no choice but to use his abilities to perpetuate his cover story: psychic crime-solving powers, all the while dragging his best friend, his dad, and the police along for the ride.

Country:
Genre:
Las Vegas
Las Vegas is an American television series broadcast by NBC from September 22, 2003 to February 15, 2008. The show focuses on a team of people working at the fictional Montecito Resort & Casino dealing with issues that arise within the working environment, ranging from valet parking and restaurant management to casino security. The series originally aired on Monday nights, though NBC later moved the series to Friday nights first to 9 PM Eastern/8 PM Central and then to 10 PM Eastern/9 PM Central. The show ended syndication in the United States in July 2013 after a long run of weekday back to back episodes it was moved to a graveyard slot of 4 am- then removed totally from TNT's lineup.
The series originally centered around Ed Deline, a strict ex-CIA officer who went from being Head of Security to becoming President of Operations of the Montecito, whose job is to run the day-to-day operations of the casino. Following his departure from the series in Season 5, former Marine Danny McCoy, Ed's former protégé, became the Montecito's new President of Operations.
The series abruptly ended with a cliffhanger because NBC canceled Las Vegas in the offseason following season five.

Country:
Genre:
The Riches
A family of crooks assume the identity of an upper-middle-class suburban clan in the Deep South.

Country:
Genre:
The New V.I.P.'s
A group of low-level employees take control of a major corporation after accidentally killing their boss.

Country:
Genre:
Molander
Not Available

Country:
Genre:
Red Dwarf
The adventures of the last human alive and his friends, stranded three million years into deep space on the mining ship Red Dwarf.

Country:
Genre:
Sirens
A comedy that follows three Chicago EMTs who despite their narcissistic and self-destructive personalities are uniquely qualified to save lives.

Country:
Genre:
Californication
A self-loathing, alcoholic writer attempts to repair his damaged relationships with his daughter and her mother while combating sex addiction, a budding drug problem, and the seeming inability to avoid making bad decisions.

Country:
Genre:
Nathan For You
Self-proclaimed business expert, writer, director and comedian Nathan Fielder helps real small businesses turn a profit with marketing tactics that no ordinary consultant would dare to attempt. From driving foot traffic to an off-the-strip souvenir shop by using Hollywood flair and a Johnny Depp impersonator, to creating a rebate that can only be redeemed by climbing a mountain, to founding a coffee shop called "Dumb Starbucks," Nathan has always gone to the limit to make his ideas come to life. With his unorthodox approach to problem solving, Nathan's genuine efforts to do good often draw the real people he encounters into an experience far beyond what they signed up for.

Country:
Genre:
The Other Kingdom
Astral is a fairy princess who lives in the secret fairy kingdom of Athenia which is full of mythical creatures. While that sounds amazing, Astral likes to fantasize about living in the human world and attending high school. Once she leaves her home to do just that, she has to try to fit in and keep her identity a secret.

Country:
Genre:
Missing Nine
Story about an unexpected plane crash that causes a widespread panic in South Korea due to the disappearance of nine people, including some influential figures in the entertainment industry.
Seo Joon O used to be a popular singer, but he isn't popular anymore. Now, he works as a reporter for a TV entertainment show. He and his stylist Ra Bong-Hee land on a deserted island.

Country:
Genre: