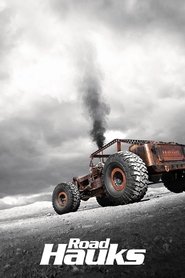 Road Hauks
Kenny Hauk, lead designer of Hauk Designs, works with his crew of expert mechanics and fabricators to build ultra-powerful, one-of-a-kind vehicles that look amazing and can go anyw
Episodes: 3
Status: Returning Series
Seasons: 1
All Episodes
You may also like
Hunted
American version of the reality show where contestants must evade skilled investigators during a nationwide manhunt.

Country:
Genre:
MasterChef
MasterChef is a U.S. competitive cooking reality show, open to amateur and home chefs. It is co-hosted and co-produced by Gordon Ramsay. Produced by Shine America and One Potato Two Potato, it debuted on July 27, 2010 at 9 pm ET/PT on the Fox Television Network, following one of Ramsay's other series, Hell's Kitchen.
The show has been first-run as a summer series, with the fourth season concluding in September 2013. On May 10, 2013, Fox renewed MasterChef for an additional two seasons, which will extend the show through at least a sixth season.

Country:
Genre:
Ice Road Truckers
Take a trip to Yellowknife, Canada to experience one of the most dangerous careers around. In unfathomably cold conditions, truck drivers haul equipment and supplies to miners in the Canadian tundra in the dead of winter on a 350-mile highway of ice.

Country:
Genre:
White Rabbit Project
Kari Byron, Tory Belleci and Grant Imahara rank history's greatest inventions, heists and more.

Country:
Genre:
Face Off
In this competition/elimination series, special effects make-up artists participate in elaborate challenges for a grand prize and the honor of being Hollywood's next great effects artist.

Country:
Genre:
The Pop Game
Young aspiring vocalists are mentored by famous musicians in hopes of scoring a record contract with a major label in this reality competition.

Country:
Genre:
Love & Hip Hop: Atlanta
Love & Hip Hop: Atlanta is the Atlanta based spin-off of Love & Hip Hop. It premiered on June 18, 2012, on VH1 and chronicles the lives of several women who are involved with hip hop. The second season premiered on April 22, 2013, with new cast members: Atlanta DJ and radio personality Traci Steele plus DJ Babey Drew, Traci's ex and father of their son Little Drew.

Country:
Genre:
Bakers vs. Fakers
Judges who know a thing or two about baking are put to the test deciphering the sweet creations of professionals who are competing against hobbyists.

Country:
Genre:
Scare PewDiePie
In this reality-adventure series from the creator and executive producers of "The Walking Dead," experience thrills, chills, and laughter as PewDiePie encounters terrifying situations inspired by his favorite video games.

Country:
Genre:
Hockey Wives
Being married to the game comes with its fair share of perks, but make no mistake: managing the pressures of trades, relentless travel, family, career uncertainty, injury, and long periods of separation in the white hot years of your life is a full time job. Meet the off-ice Captains — sexy, savvy, jet-setting women, stick handling life through another grueling hockey season. From wives who are new to the league, to those whose partners are Stanley Cup winning superstars or nearing retirement, these women form a team of their own, supporting and encouraging one another through personal and professional highs and lows.

Country:
Genre:
Get Out Alive with Bear Grylls
Get Out Alive with Bear Grylls is an American reality competition series hosted by adventurer and survivalist Bear Grylls. The eight-episode series premiered on NBC on July 8, 2013.

Country:
Genre:
Black Ink Crew Chicago
Follow the tattoo artists at 9Mag in Chicago as they band together to create new identities for themselves, their families, and their business.

Country:
Genre: