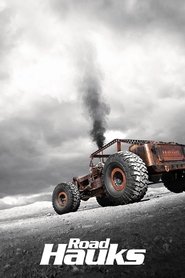 Road Hauks
Kenny Hauk, lead designer of Hauk Designs, works with his crew of expert mechanics and fabricators to build ultra-powerful, one-of-a-kind vehicles that look amazing and can go anyw
Episodes: 3
Status: Returning Series
Seasons: 1
All Episodes
You may also like
Homicide Hunter: Lt Joe Kenda
A non-fiction investigative series of murder cases told through the personal experience of retired detective, Lieutenant Joe Kenda. Through re-enactments, discussions with investigation teams, and interviews with victims' families and other involved persons, the show highlights Kenda's successes with his 400 homicide case history and 92 percent solution rate.

Country:
Genre:
Life Below Zero
Viewers go deep into an Alaskan winter to meet six tough and resilient residents as they try to stay one step ahead of storms and man-eating beasts to make it through to spring. The closest neighbor to Sue Aikens is more than 300 miles away. Eric Salitan subsists solely on what he hunts and forages. Chip and Agnes Hailstone catch fish for currency in bartering for supplies, and Andy and Kate Bassich use their pack of sled dogs for transportation.

Country:
Genre:
The Real Housewives of Atlanta
The Real Housewives of Atlanta is an American reality television series that debuted October 7, 2008, and airs on Bravo. It is the third installment of The Real Housewives franchise. The series follows six women living in and around the Metro Atlanta area as they balance their home life, business ventures, and their social calendars while a production crew follows their everyday activities. As of April 2013, The Real Housewives of Atlanta is the highest rated installment of the franchise as well as the most-watched series on the Bravo network.

Country:
Genre:
Better Late Than Never
This hilarious fish-out-of-water comedy/reality show follows cultural icons Henry Winkler, William Shatner, Terry Bradshaw and George Foreman on their greatest adventure yet. Deciding it's Better Late Than Never, these four national treasures embark on the journey of a lifetime, traveling across Asia on their own with no schedule and no itinerary. The only "help" will come from Jeff Dye, a young, strong, tech-savvy comedian with an agenda of his own – who isn't above leading the men off track. Each stop is packed with hilarious cultural experiences, heartwarming spectacles and unexpected twists as our legends take on this unforgettable adventure.

Country:
Genre:
Get Out Alive with Bear Grylls
Get Out Alive with Bear Grylls is an American reality competition series hosted by adventurer and survivalist Bear Grylls. The eight-episode series premiered on NBC on July 8, 2013.

Country:
Genre:
Shahs of Sunset
"Shahs of Sunset" follows a group of friends who are trying to juggle their active social lives and up-and-coming careers while balancing the demands of their families and traditions. These passionate socialites are fervent on the dating and party scene, but seeking approval from their family they face pressures to settle down and marry within the community. From outings on Rodeo Drive to traditional Persian feasts at home, this series celebrates the unique lifestyle of a group of friends who have worked hard for what they have and are not afraid to flaunt it.

Country:
Genre:
The Voice
The strongest vocalists from across the United states compete in a blockbusters vocal competition, the winner becomes "The Voice". The show's innovative format features four stages of competition: the blind auditions, the battle rounds, the knockouts and, finally, the live performance shows.

Country:
Genre:
The Celebrity Apprentice
The ultimate sixteen-week job interview where eighteen Americans compete in a series of rigorous business tasks, many of which include prominent Fortune 500 companies and require street smarts and intelligence to conquer, in order to show the boss that they are the best candidate for his companies. In each episode, the losing team is sent to the boardroom where they are judged on their performance in the task. One person is fired and sent home.

Country:
Genre:
Little Big Shots
"Little Big Shots", a new comedy-variety series, showcases young musicians, singers, dancers and every form of wunderkind in the country. Harvey goes toe-to-toe with them in conversations and interviews, with hilarious results.
From pint-size break-dancers to five-year-old piano virtuosos, these gifted performers awe the nation with their talents, slay us with their cuteness and wow us with their accomplishments, proving once and for all that talent is born, not made.

Country:
Genre:
Livin' Lozada
Livin' Lozada follows the lives of Evelyn Lozada, of "Basketball Wives" fame, and her 21-year-old daughter Shaniece. Evelyn has moved on from the heartache of her highly publicized divorce in a big way. She is engaged to big league baseball player Carl Crawford and the happy couple have a one-year-old son, Leo. Between learning to be a mom all over again, setting up a new home in Los Angeles for her and her family, working on getting the sequel to her first book published, as well as dealing with issues surrounding her family back East… Evelyn has a lot going on!

Country:
Genre:
Teen Mom 2
Teen Mom 2 is an American reality television series which follows the lives of four girls from the second season of 16 and Pregnant as they navigate their first year of motherhood. The series also focuses on the themes of their changing relationships between family, friends, and boys, while highlighting the struggles teenage mothers have to go through to raise their children.

Country:
Genre:
Storage Wars
When rent is not paid on a storage locker for three months in California, the contents can be sold by an auctioneer as a single lot of items in the form of a cash-only auction. The show follows professional buyers who purchase the contents based only on a five-minute inspection of what they can see from the door when it is open. The goal is to turn a profit on the merchandise.

Country:
Genre: