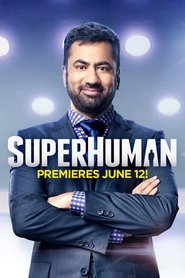 Superhuman
Contestants who possess a distinct, nearly super-human ability in fields such as memory, hearing, taste, touch, smell, sight and more are challenged to push their extraordinary skills to win a $50,000 grand prize.
Episodes: 1
Status: In Production
Seasons: 1
All Episodes
You may also like
Southern Charm
New series "Southern Charm" goes behind the walls of Charleston, South Carolina's most aristocratic families to reveal a world of exclusivity, money and scandal that goes back generations. The fast-paced, drama-filled docu-series follows six Charleston singles, Craig Conover, Cameran Eubanks, Jenna King, Thomas Ravenel, Shepard "Shep" Rose, and Whitney Sudler-Smith, struggling with the constraints of this tight-knit, posh society. The cast, some descendants of Vice Presidents and four-term Senators, and others from "new money," is comprised of Southern bachelors who suffer from "Peter Pan Syndrome" by refusing to settle down; and the women in their lives who challenge them to grow up. Viewers will see them launch political careers, build businesses, break hearts, and chase true love — all while struggling to preserve their family names. Because in Charleston, you're only as good as your last garden party and one social screw-up can taint generations to come.

Country:
Genre:
Alone
The ten-episode series Alone will put hardcore survivalists by themselves in the Vancouver Island wilderness, without camera crews, teams, or producers – on a single mission to stay alive for as long as possible. The last person standing will win $500,000.

Country:
Genre:
Dating Naked
A reality series in which a man and a woman date two different naked suitors on a remote exotic location.

Country:
Genre:
Top Chef
Top Chef is an American reality competition show on the cable television network Bravo, that first aired in 2006, in which chefs compete against each other in culinary challenges. They are judged by a panel of professional chefs and other notables from the food and wine industry with one or more contestants eliminated in each episode. The show is produced by Magical Elves Productions, the same company that created Project Runway.
Nine international adaptations of Top Chef have been produced, two of which, the Franco-Belgian Top Chef and the Dutch Topchef, have had four seasons each. In the United States, the show has had two spin-offs: Top Chef: Masters, featuring established, award-winning chefs, and Top Chef: Just Desserts, featuring pastry chefs. One more spin-off is planned: Top Chef Junior, featuring contestants in their early teens.
On May 10, 2013, it was announced that the upcoming eleventh season of the series will be set in New Orleans, Louisiana. It will premiere on October 2, 2013.

Country:
Genre:
Ink Master
Hosted by rock legend Dave Navarro and judged by icons of the tattoo world, Chris Núñez and Oliver Peck, 10 of the country's most creative and skilled tattoo artists descend on NYC to compete for a hundred thousand dollars and the title of INK MASTER. The stakes couldn't be higher with "living canvasses" donating their skin to be permanently marked in this adrenalized competition elimination.

Country:
Genre:
Ghost Hunters
Ghost Hunters is an American paranormal reality television series that premiered on October 6, 2004, on Syfy. The program features paranormal investigators Jason Hawes and Grant Wilson who investigate places that are reported to be haunted. The two originally worked as plumbers for Roto-Rooter as a day job while investigating locations at night. Since the show's success, the series now takes precedence in their lives, but they are still honorary employees with the company and continue to do jobs for them if time permits.
The show is unrelated to the original 1996 Inca Productions show Ghosthunters produced for the Discovery Channel. The format was sold to Pilgrim Films & Television in the United States to become Ghost Hunters. The only link between the two shows is presenter Ian Cashmore who anchored the UK/Europe show. Cashmore piloted the U.S. show, but chose not to remain part of the U.S. venture after he filmed the promos.

Country:
Genre:
Running Wild with Bear Grylls
Running Wild with Bear Grylls, the survivalist takes one celebrity into the most remote locations in the U.S. and around the world for a 48-hour journey of a lifetime. From skydiving into the Catskill Mountains, to rappelling down the cliffs of Utah and battling torrential wind and rain in Scotland, Grylls and each celebrity will have to push both their minds and bodies to the limit to successfully complete their journey.

Country:
Genre:
My Kitchen Rules
The American version of this unscripted cooking series pits celebrity duos against each other as they cook and critique each other's food, in Hollywood homes. The teams will take turns hosting intimate dinner parties with a menu designed to impress their rival competitors and two professional chef judges.

Country:
Genre:
Shahs of Sunset
"Shahs of Sunset" follows a group of friends who are trying to juggle their active social lives and up-and-coming careers while balancing the demands of their families and traditions. These passionate socialites are fervent on the dating and party scene, but seeking approval from their family they face pressures to settle down and marry within the community. From outings on Rodeo Drive to traditional Persian feasts at home, this series celebrates the unique lifestyle of a group of friends who have worked hard for what they have and are not afraid to flaunt it.

Country:
Genre:
MythBusters: The Search
The search for an all-new generation of myth-busting science superstars with mind-blowing build skills and nerves of steel. Using social media and spectacular stunts, a cast of fearless hopefuls are judged on their skills as they compete in never-before-seen myth-busting challenges.

Country:
Genre:
Real World
The Real World is a reality television program on MTV originally produced by Mary-Ellis Bunim and Jonathan Murray. First broadcast in 1992, the show, which was inspired by the 1973 PBS documentary series An American Family, is the longest-running program in MTV history and one of the longest-running reality series in history, credited with launching the modern reality TV genre.
The series was hailed in its early years for depicting issues of contemporary young-adulthood relevant to its core audience, such as sex, prejudice, religion, abortion, illness, sexuality, AIDS, death, politics and substance abuse, but later garnered a reputation as a showcase for immature and irresponsible behavior.
Following Bunim's death from breast cancer in 2004, Bunim/Murray Productions continues to produce the program. The 28th and most recent season, set in Portland, Oregon, premiered on March 27, 2013, and ended its first run on June 12, 2013. An upcoming 29th season, set in San Francisco, California, is currently in production, and is expected to air in 2014.
The series has generated two notable spin-offs, both broadcast by MTV: Road Rules, which lasted for 14 seasons, and the reality game show The Challenge, which has run for over 20 seasons since 1998. The Challenge is mostly cast-contestant dependent on both The Real World and Road Rules, as it combines contestants from various seasons of both shows. Coordinating the series with its spin-off, MTV alternates between airing seasons of The Real World and The Challenge and ends out seasons of both shows by showing previews for the upcoming season of the other.

Country:
Genre:
Australia's Next Top Model
Australia's Next Top Model is an Australian reality television series, based on a franchise that was created by Tyra Banks with America's Next Top Model. It is produced by Granada Productions and broadcast on the Australian subscription television channel, FOX8. The series' objective is to find a promising but as-yet undiscovered Australian fashion Model and reward her with a platform to boost her chances of forging a successful career within the modelling industry.
The series was last formerly hosted by Australian model Sarah Murdoch, who also served as lead judge and co-executive producer of the show for cycles five to seven. Jodhi Meares and Erika Heynatz also served as former hosts. An eighth cycle was confirmed for production and broadcast during 2013. Producers had to find a replacement host before production re-commenced.
In April 2012 it was announced that the series would take a break for 2012 due to the fact that producers of the show were having trouble finding a replacement for Sarah Murdoch. It was announced on 19 November 2012 that beauty queen, model, and television personality Jennifer Hawkins was chosen as the new host for the ongoing eighth cycle.

Country:
Genre: